We Explore the Top 10 Galvanized Steel DOT Projects
Galvanized steel is the only option if you want to protect your DOT project from corrosion, ensuring that it will stand the test of time. Galvanized steel DOT projects have successfully stayed strong and corrosion-free for decades, without requiring extensive rework or repairs. 
Galvanized steel is coated with a thin layer of zinc that protects it from corrosion, which makes it the material of choice in construction. 
Galvanized steel is a common material used in DOT projects, and we'd like to share the top 10 intriguing and innovative projects that have utilized the corrosion-resistant dependability of galvanized steel. Some of these will be familiar, but others may be new to you.
Top 10 Galvanized Steel DOT Projects
1. The Brooklyn Bridge
It was a marvel of engineering in 1883, and this brilliant New York City landmark still sparks fascination. It was the first bridge to use galvanized steel for the cable wire. Galvanized cables ensured that the harsh environment, rain, and salty water of the East River didn't affect the bridge's strength and reliability.
At the time, it was not only the longest bridge in the world, but 50% longer than any bridge previously constructed.
---
2. The Sixth Street Bridge in Los Angeles
This new bridge was dubbed "The Ribbon of Light" due to its sophisticated design. However, at the heart of the project was the solid, corrosion-resistant hot-dip galvanized steel to ensure the bridge would last for decades. This galvanized steel DOT project connected the downtown Arts District to the Boyle Heights neighborhood, and it implemented all of the state requirements for both safety features and seismic conditions.
---
3. Stearns Bayou Bridge
Chances are you've never heard of this bridge, which is in Grand Haven, nestled along the shore of Lake Michigan—but it's a game-changer. It was dedicated in 1966, replacing an older, on-land wooden bridge. This bridge earns a special place in history: It was the first hot-dipped galvanized steel bridge that was constructed in the U.S.
When the bridge was inspected in 2017, officials found that while the bridge deck had to be replaced, no maintenance had to be done to the hot-dip galvanized coating. 
This is just another example of what we tell our clients: In the long run, hot-dipped galvanized steel is the best economic choice.

Credit: AGA
---
4. The Center Street Bridge
The Center Street Bridge is over 100 years old, and crosses the Cuyahoga River in Cleveland. This bobtail swing bridge has a unique design. Because of the bridge pivot, the Cuyahoga River is free from obstructions. It is only one of two such bridges in Ohio.
The bridge needed to be refurbished as part of an $8 million project, and what better choice for the materials than galvanized steel? It was chosen for the grating of the bridge.
---
5. Hoover Dam Bypass—Arizona Approach
Hoover Dam looms as not only an iconic engineering marvel but a testimony to the dedicated Americans who made a project of such magnitude possible. However, since the dam was constructed, the traffic on the road leading to it increased exponentially. The resulting gridlock and heightened concern over national security prompted the need for a bypass.
And never was the power of galvanized steel more important. 
The challenging climate of Mohave County, AZ, and the difficult access (the bridge is over 200 feet in the air), meant that the bridge would constantly be battling the elements, and its location would make any touch-up or maintenance work difficult and expensive. 
Galvanized steel made this project possible.
---
6. The Ogdensburg-Prescott Bridge
Spanning over the Saint Lawrence River, the Ogdensburg-Prescott Bridge links the United States and Canada. It's a vital thoroughfare for bringing products over the border. Built in 1960, this cable suspension bridge was in dire need of rehabilitation. 
And once again, hot-dip galvanizing stepped up to the plate to get the job done. 
It included 27 tons of hot-dip galvanized plates and angles including steel floor beams. When you include floor beams and five expansion joints, you have another 415 tons of galvanized steel. 
This project earned a 2022 award for excellence in hot-dip galvanizing from the American Galvanizers Association.
---
7. The Clackamas Cantilever Sign Bridge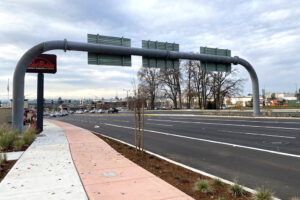 In Portland, OR, the DOT wanted to use a structure that minimizes interference with drivers' views. As a result, this sign bridge offers an improved line of sight in a corridor known for congestion. It utilizes a monotube style, which is a great benefit because it helps when many other signs are seen at a specific location. 
You didn't have to convince the Oregon DOT about the benefits of hot-dip galvanized steel for their DOT projects. They've had a great track record of utilizing galvanized steel in their structures, requiring little to no maintenance since their installation in the 1960s!
---
8. Charlotte Gateway Station Phase I
We take a look closer to the Carolinas with this project, created to upgrade the light rail transportation in Charlotte. As part of an $800 million transportation state and rail line, several phases of construction are involved that will replace existing stations. The history of the station reaches as far back as the 1880s, when its stations were first crafted, followed by additional upgrades in the 60s and 70s.
This galvanized steel DOT project implemented wide flange beams, reinforced verticals, and spirals— an all-encompassing 1000 tons.

Credit: NCDOT
---
9. Fairport Lift Bridge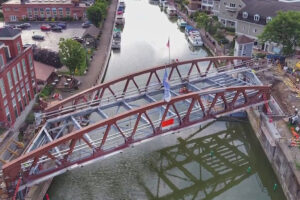 This 114-year-old bridge in Fairport, NY has a rich history, and its restoration took almost two years. 
When the bridge was originally constructed, there was more cargo ship traffic than automobile traffic. Therefore, the lift bridge stayed in an upright position and was lowered for cars (kind of the opposite of what we think of when considering lift or draw bridges today.)
Galvanized steel was used, and builders galvanized 77 tons of steel. It took 22 months to finish the galvanizing.
---
10. Newberg – Dundee Bypass
We return to Portland, OR for this project. While Oregon isn't the state you think of when you hear about snowfall, even the light snowfall that occurs a couple of days a year can be influenced by Arctic cold waves—meaning roads and bridges must be prepared to face these elements. 
And this galvanized steel DOT project passed the test. 
This project included four miles of a two-lane roadway. Because there are several tourist attractions nearby, the bypass will make a huge mark by reducing traffic on 99W by roughly 60 to 65 percent.
---
Galvanized Steel Is Also Frequently Seen in Other Industries
The impact of galvanized steel isn't limited to DOT projects. It's also useful in a wide variety of other industries including:
Utilities

Solar and renewable energy

Marine

Agricultural

Artistic/Recreational
---
Let South Atlantic Help You Make Landmark Projects That Last
As the leading galvanizer in the Southeast, our high-quality zinc coatings—combined with our fast turnaround, flawless customer service, and seamless logistics—give you a product that will withstand the test of time. 
As these galvanized steel DOT projects have shown, hot-dip galvanizing and galvanized steel is the only choice when you want to minimize the chances of extensive project maintenance later.
Our lage inventory of pre-galvanized steel products means we have what you need when you need it. Couple that with our ability to ship pre-galvanized steel from coast-to-coast, making us the go-to partner for DOT projects of every scope and size. 
If you're looking for a galvanizer that keeps its promises and stands by its product, we've got you covered. Contact us for a quote today.