We offer angle iron covers for 3″ & 3½" angle in five brushed colors:  white, clay, sand, bronze, and brown. The covers for 3″ angle are only offered in white. They are packaged 25 10-foot sections per box. 
South Atlantic recommends using galvanized angle lintels when using angle iron covers to ensure that the angle hidden by the cover does not rust and create problems in the future.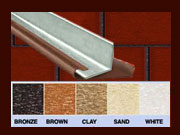 Some reasons why our angle iron covers will fit your specifications:
We offer five brushed finished colors to complement a variety of brick styles and match window trim. 

Our angle iron covers are made of flexible, lightweight vinyl.

They are easy to handle, cut and install.

They are packaged in 10-feet length, 25 to a box for convenient quantities.

All colors are available for 3½" angles. 

White angle iron covers are available in both 3½" and 3″.

At South Atlantic Masonry Products, we provide superior service and products. Request a quote today and see how we work harder, so you don't have to.