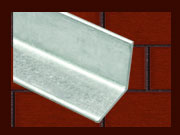 We have a large inventory of domestic A36 angle iron ranging from 3 x 3 x 3/16 through 6 x 4 x 3/8, and can also provide other sizes on a special order basis. We provide our angle cut to your specific lengths, and with holes as requested, and offer them in hot-dip galvanized, primer coated, or bare.
View the technical specifications of our angle iron lintels here. 
Avoid oxide jacking in your brick veneer, as seen here, by choosing hot dip galvanized steel lintels. Learn how to prevent costly repairs caused by oxide jacking.
Request a quote today or contact us with any questions you may have. At South Atlantic, we have all your masonry needs covered.