Hot-Dip Galvanized Services: Your Biggest Questions Answered
Galvanized rebar has become the steel of choice for construction and transportation projects. The superiority of galvanized rebar has led to an increased interest in hot-dip galvanized services. Just as galvanizing rebar makes it stronger and more resilient, the same is true of other steel materials.
Whether it's uncoated rebar that you want to reinforce or other materials that need to be erosion-resistant, hot-dip galvanizing is a great option. At South Atlantic, we offer the best galvanizing services that follow all ASTM standards.
But what does a galvanizing service do, and how does galvanizing improve other steel materials? Here's a quick overview of what galvanized steel services do and how they help your materials perform better during and after construction.
What are Hot-Dip Galvanized Services?
Hot-dip galvanizing refers to the act of creating a protective coating around fabricated steel by dipping it in a vat of molten zinc. First, we rinse the steel and prepare it to help the coating better adhere to the material. Then we dip the steel into hot, liquefied zinc. From there, it is carefully removed and set out to cool. The zinc hardens into a solid, protective coating that is neither temperature sensitive nor easily damaged, making it the superior construction material.

A company that offers hot-dip galvanized services can handle the entire process for you. Your steel materials can be shipped or transported to them, where they can prepare them for your project. At South Atlantic, that's exactly what we are proud to do for our customers. Though the process sounds simple, it is one which requires great care. That is why we take pride in treating every galvanizing project with the utmost attention.
What Materials Can Be Galvanized?

Hot-dip galvanizing is a treatment which is specifically used for fabricated steel. However, there are many types of steel materials that can be galvanized apart from rebar. Rebar, steel beams, and steel mesh wiring are popular choices for hot-dip galvanizing. But, we also galvanize steel nails, bolts, screws, and other binding building materials.
Examples of Specialized Galvanizing
There are also many instances of various shaped steel materials being hot-dip galvanized for longevity and appearance purposes. A couple examples of this include the USS Arizona World War II Memorial Site and the Cleveland Metropark Rainforest Dome.
The Salt River Field USS Arizona Memorial Gardens features a lit tribute of columns representing lives lost on board the USS Arizona during the attack on Pearl Harbor. 1,177 steel tubes stand in the water and light up at dusk to signify the lives lost. To help preserve the beauty of the memorial while preserving it for generations to appreciate, the poles were hot-dip galvanized so they could stand in water for decades without corroding.
The Cleveland Metropark Zoo was first opened in 1992. The big dome which encased the Bornean orangutans exhibit became an iconic feature of the Zoo and a known Cleveland landmark. When it was due for replacement, it was important to choose a steel which would be just as striking, while being safe for the animals and able to withstand the elements of weather and time. For this project, fabricated tubing was galvanized in sections, which were then pieced together to form the hexagons of the dome. The structure successfully withstands the weight of the orangutans, while showcasing the animals through the beautiful dome.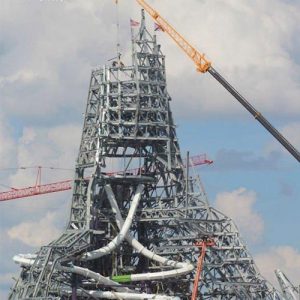 At South Atlantic, our team was proud to be the galvanizer of choice for Volcano Bay at Universal Studios in Florida and Celebration Park in Naples, Florida. Both projects are great examples of how hot-dip galvanizing can be used in a wide variety of projects, regardless of size or scope.
How Does Galvanizing Help My Construction Project?
Whether you have a fantastic exhibit like the two examples above or a straightforward construction project, galvanizing will help you stay on track and deliver a strong and aesthetically pleasing end result.
Galvanizing strengthens your materials, which not only helps their longevity, but also helps you avoid the extra care that is necessary when using other materials. Galvanizing your materials first also helps you avoid the delays that come with noticing erosion or cracks while you are still building. Learn more about the ways galvanized materials help save you time and money, both now and later, in this recent post on our website.
Is Galvanizing Steel Expensive?
Though it may come as a surprise, galvanized steel is a competitive option for protected construction materials. The refined process only includes what is necessary to complete the coating with precision. The zinc itself maintains its price with consistency. By working with our experts at South Atlantic, we are able to provide the best services for the best price, as we have the experience to complete the job with no wasted time or materials.
More importantly, when considering the cost of galvanizing steel, you need to consider how much you stand to lose without it. Time waiting for broken pieces costs money. Time spent handling fragile materials with extra care also costs money. Most of all, a poorly executed project can cause the loss of future projects. Rather than leave the project to fate, start with a material you can trust. Start with galvanized materials for an easier project from start to finish.
Learn About Hot-Dip Galvanized Services for Your Next Project
We've got you covered with the highest-quality zinc coating on the market. No job is too big or too small. With hot-dip galvanizing that follows all ASTM standards, kettle tags that ensure your items don't go missing, and support to streamline the process, we are the wise choice! Request a quote and start working with South Atlantic today!