Five Reasons Galvanized Rebar Saves Time & Money, Now & Later
In Part One of our three part series on galvanized rebar, we shared why galvanized rebar has become the first choice for infrastructure projects. In Part Two, we put together five reasons that galvanized materials save you time and money, both now and in the future.
At South Atlantic, we take great pride in only offering the best for your building projects. Here's why galvanized rebar is the smartest investment:
1. Galvanized Rebar is Easy to Transport Without Special Handling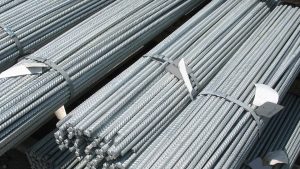 Unlike epoxy coated rebar, galvanized rebar is strong and tough. It is not easily damaged and maintains its integrity even when scratched. You can bundle, load, transport, and deliver galvanized materials, like rods or wire sheets of rebar, without any special handling.
This saves time and money in many ways:
Faster load and unload times reduce labor costs.
No-fuss transportation makes quick delivery easier. No special trucks or packaging required.
Products arrive intact, rather than compromised by damage. This means work can begin immediately after the materials arrive on site.
Galvanized rebar doesn't need micromanaging. Less reliance on communication means less room for error. If your crew does not understand how fragile the epoxy coated rebar is when it arrives, they may unload it without proper care. The same scenario would not hurt the galvanized materials.
2. Galvanized Materials Can Handle Any Weather
When you have a big construction or infrastructure project to complete, time is money. You don't want to budget for lost time. But, you can spend days waiting for the right temperature and weather conditions to install epoxy coated rebar.
Epoxy coating can crack in temperatures under 50 degrees. This cold intolerance limits when repair or construction projects can happen in northern regions. It also makes project delays more likely, as unexpected changes in weather could threaten any epoxy coated rebar still exposed to the elements.
By contrast, galvanized materials can handle any temperature and any weather. Need to repair a northern interstate during slow traffic hours, when temperatures are cooler? Not a problem. The zinc coating can handle even extreme temperatures. This means you can work with the materials year-round, and never worry about weather's inconsistencies.
3. Less Overlap Reduces Material Costs
Because epoxy coated rebar has a hard time bonding to concrete, a higher percentage of the material needs to be touching concrete to ensure it is secure. When working on a project of extensive length, multiple rebar units in a row are used to span and support it. When placing these units, a certain amount of each one must overlap the previous one to provide proper support. This is the "overlap length".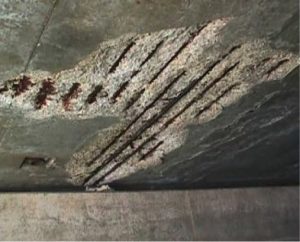 Epoxy's weak bond to concrete means that at least 20% more overlap length is required per unit to create stability. When building a long structure such as a bridge deck, this adds up quickly. The only way to ensure a structure supported by epoxy coated rebar will maintain its integrity is to overlap large sections of each unit. This means you have to pay even more money to compensate for inferior material.
Galvanized rebar has a naturally strong bond to concrete, one that stands the test of time. This means it does not need extra overlap length to stay in place. Less overlap length means less materials needed to complete the same job, but with even greater dependency.
4. No Wasted Time on Extra Maintenance or Repairs
Liberty Bridge is a one-of-a-kind curved walkway that overlooks the Reedy River Falls in Greenville, South Carolina. When planning the impressive structure, the architect asked that the reinforced steel and bridge cables be hot-dip galvanized before construction. He stated,
"I want this bridge to stand for as long as possible without any maintenance to the concrete deck or corrosion of the steel reinforcement."
The bridge is so impressive in its design, strength, and durability, it has become an emblem of the city and transformed public interest in it as a tourist destination.
If Liberty Bridge was always in disrepair or under construction, Greenville may still be a sleepy town in South Carolina. Even if you are not looking to build a new national attraction, the practical value of investing in material that lasts without needing constant maintenance or micromanaging is easy to understand.
Whether it's for pleasure, like Liberty Bridge, or for essential daily use, like bridge decks, the less maintenance necessary, the less time and money required to keep it serving its purpose. You can build it, and then trust it to handle its load while directing your time and money elsewhere.
5. With Galvanized Rebar in Place, Future Projects are Faster
Galvanized rebar is not only a smart investment for the current time, but also for the future. Galvanized rebar itself can withstand 100 years of regular use, but the materials surrounding it may not. When those materials wear down, the repair process is easier if the original "bones" are made of galvanized materials.
An example of this in action occurred when the Pennsylvania DOT had to expose part of a bridge deck while replacing a barrier wall on Route 66. When they cut into the bridge deck, they found the corrosion levels of the galvanized rebar to be well above the stable threshold. This allowed them to repour the new barrier wall and repair the exposed section of road over the original rebar.
Being able to make repairs around the original rebar simplifies the long-term maintenance of load-bearing transportation infrastructure. This same concept can apply to other high-traffic structures exposed to the elements, like university buildings, stadiums, or monuments.
Make a Concrete Investment in the Future with Galvanized Rebar
If you want to do a project right the first time, then invest in the right materials. By choosing galvanized rebar, you cut costs on the project itself and protect your investment in building it.
We at South Atlantic are proud to have 50 years of experience offering galvanizing services and wholesale products. As this has been our speciality for decades, we have the strongest understanding of the many practical applications of galvanized materials.
Contact us today to explain the scope of the work and the materials needed, and we can recommend the best options for you.

No matter the job, we've got you covered.